I really am. I'm becoming obsessed. My time in Iceland changed me, you understand?
How long was this time in Iceland, you ask?
Exactly ten hours.
On our way to our Trip-For-Trash #2 to Scandinavia, we made a ten-hour stop-over in Iceland. Icelandair offered tickets that were $400 cheaper
per person
than the other airlines, so I figured that we could suffer in the airport if we had to.
Curious about time-killers, I Facebook-messaged Tarrytown's only Icelandair Saga Club member, Chuk Högnell of
The Mighty Horseman Tattoo Co.
: "Is there anything a family of 4 can do in Reykjavik during a 10 hr daytime layover that is reasonably interesting?"


All my tattoos are on the inside, thank you;
but I'm sure Chuk has plenty of customers without me.
Photo:

Matthew Eisman
Chuk wrote back immediately:"
Blue Lagoon
."
I asked my equally-gorgeous-but-decidedly-not-Viking friend, Cher, who has flown from California to see the Northern Lights.
She wrote back:
Blue Lagoon
.
So, ok.
Blue Lagoon!


Before I talk about the Blue Lagoon, there are a couple things you need to know about Iceland. Both can be gleaned from my two submissions for national motto:
Iceland: We've Made Some Bad Banking Decisions...Stay Awhile!
Iceland: Yes, We Do Accept That Currency!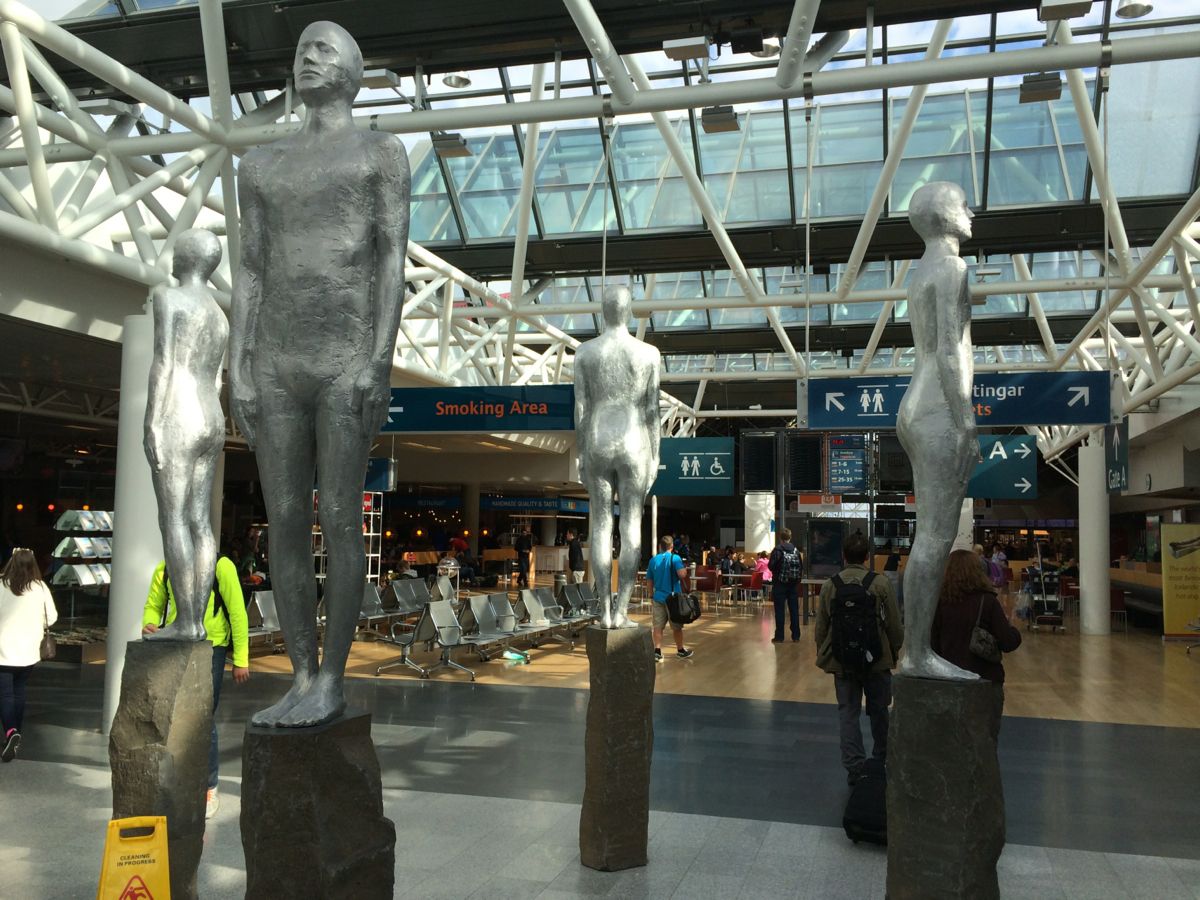 Steinunn Þórarinsdóttir's Directions, in the main terminal of Keflavik Airport, is beautiful and functional:
each figure is embedded with a device to track which of the four corners of the earth Iceland's investments disappeared to.
Let's be clear: Iceland will pick your pockets. In fact, Icelandair will fast-track that process because they won't give you anything to eat unless you pay a ransom in the currency of your choice.
That said, their kindness towards children--free meals, headphones, convertible pillow/blanket embossed with Icelandic lullaby, and stickerbook--made up for the $20 they demanded for a baguette with ham and cheese.

photo from Yelp review
Also, their airline attendants are stunningly beautiful people who sold us the best liquor we've ever tasted:
Björk
.

Björk

: that birch branch makes all the difference!
Yes, everything is expensive in Iceland, but it's also
worth the money
. How often do you get to say that with complete confidence?
So, Blue Lagoon: $50 gets you in, and maybe gets you a towel. Anything else is going to cost you. Once you're done battling your wristband-activated locker, shower off and get in to the milky blue, steamy waters...
carefully,
cuz it's hot. Like, geothermal-powerplant-is-literally-next-door HOT.
You won't see the plant and its own pool when you're soaking in the
Blue Lagoon, but you can't miss it as you drive past.
Photo: Blue Lagoon
Half an hour in the surprisingly-less-stinky-than-you'd-think waters: I was parboiled and having all my travel tension pounded out of my back by an artificial waterfall.
After that, I found myself meditative and people-watching. They were watching me, too, since we were all coated in the spa's silica clay... the
only
thing they're giving away at Blue Lagoon. (If you want to take some home, however, you're gonna
pay.
)
People-watching at the Blue Lagoon was a strange, blissful experience. It all looked--and felt--like a fusion of Japanese snow monkey documentary and Fellini's
8½

.
"Which part is Fellini and which part is snow monkey documentary?" you ask.

Indeed: Which...
...is...
...which?
In any case, I got back on that plane happier than I'd ever felt during any travel experience. I repeat:
Worth the money
.
Another interesting aspect:
Have you ever felt vague existential grief, like you weren't worthy of your life?
No? I can fix that for you: visit Iceland.
My whole family got that "You think life is hard, my friend? Try surviving
here
for 1,200 years!" That's right: we got that feeling going from ultramodern Keflavik airport to THE SPA. Iceland--at least the tiny part of it we saw on the way to the Blue Lagoon--looks like a raw new planet, and not a warm new world like Hawaii.
Strange and compelling. Upon viewing this landscape, Badgerette #1 proclaimed,
"I will live here when I grow up!" The Man was all for it. How worried should I be?
Photo from the travel blog,

Anywhere&Here

.
As soon as I could, I leaped into Wikipedia to read up on Icelandic history. The current population--almost all descendants of Nordic Viking fathers and Celtic "thrall" mothers--survived two brutal waves of the Black Death, one vicious attack of smallpox, the horrific 1783 eruption of the Laki volcano and the famine that followed.
After learning about Iceland's against-all-odds culture, I finally decided to see
How To Train Your Dragon,
and I not only adored it...I believed every word.
I mean, check out the photo I took during descent!
I returned to Sleepy Hollow to discover that we are not the only residents to become raving Iceland-enthusiasts this summer. In fact, we're not even the only family at the bus stop to do so.
If Europe ever gives you that "come-hither" look, go thither, and take
Icelandair
up on their offer of a free seven-day layover. You might not have any money left by the time you arrive at your final destination, but I can guarantee that everything about Iceland is "reasonably interesting," so it will be money well spent.
copyright 2015, Tanya Monier